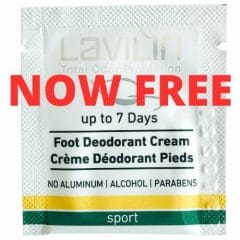 Free Cream for Foot Odour
Lavilin Total Odour Protection are here to help with foot odour because they are giving away free samples of their Foot Deodorant Cream! This sample is up to a month's supply if you use it as directed, and it neutralises foot odour for up to 7 days per application. You only need a little on each foot, and you can wear it while doing activities like showering and swimming.
This is a naturally-based herbal cream, so order your sample today by clicking the green button. The link will take you to their website, where you can read more information and add the sample to your basket. Simply check out, and they will send out your freebie. Smelly feet don't have to be an issue with this cream, so give it a try!
CLAIM OFFER