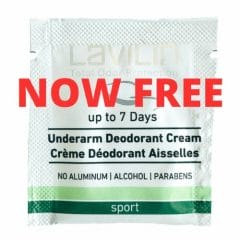 Free Sample of Deodorant Cream
You can now get a free sample of Underarm Sport Deodorant Cream from Lavilin Total Odour Protection. This deodorant cream is herbal-based, hypoallergenic, and each application on the armpit can last seven days. So, you can be fresh and free from worrying about odour for up to a week. Not only that but a little of the cream goes a long way, and it lasts while showering and exercising.
The free sample you can get will last up to a month, so you will get four or five applications if you use it as directed. You can't miss out on trying deodorant cream free for that long, so click the green button below to order your sample. All you need to do is add the deodorant to your cart and check out. Give it a try and see if the deodorant cream works for you!
CLAIM OFFER