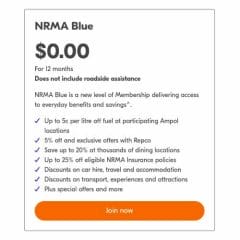 Free NRMA Blue Membership
You can now get an NRMA Blue Membership free for one year if you are a new customer who hasn't signed up with them before. The membership includes up to 5c per litre off fuel at participating Ampol locations, 25% off eligible NRMA insurance, discounts on transport, care hire and much more. Please note that it does not include roadside assistance.
If you would like to read more about NRMA Blue and claim your free 12-month membership, click the green button below. The link will take you to their promotion on their website, where you can sign up. It is brilliant if you want discounts and more, so take a look at NRMA today.
CLAIM OFFER