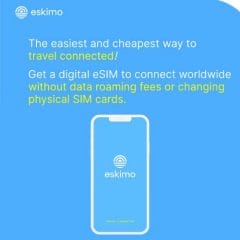 Free Global Data with an Eskimo eSIM
If you're going on a trip and want some free data, this offer is for you. You can get an eSIM with Eskimo, and if you use the code GOODTOFLY during sign-up, you will get 1GB of data that you can use globally in over 60 countries. The data will be valid for two years, and you won't need a physical SIM card.
Click the green button below to visit the Eskimo website, and once there, you can read more about their travel eSIM cards and see how they work. Don't forget to enter the code to get your free 1GB of data!
CLAIM OFFER