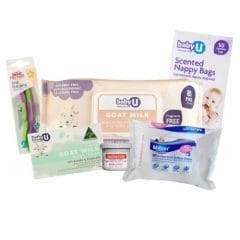 Win A Free Nice Pak Baby Club Hamper
Join the Nice Pak Baby Club, and you could win one of five hampers! Every month Nice Pak give away five baby hampers full of items your baby needs. Each hamper includes a 2 pack of Heinz Baby Basics First Feeding Spoons, 50 pack of Baby U Scented Nappy Bags, 80 pack of Baby U Goat Milk Wipes, 100gm bar of Baby U Goat Milk Soap, 30 pack of Milton Anti-bacterial Surface Wipes, and one 10gm tube of Sudocrem. If you win the hamper, it will be delivered to your home.
To be in with a chance of winning, join the Nice Pak Baby Club today. Five winners will be randomly selected every month. Sign up and see if you will be a winner.
CLAIM OFFER