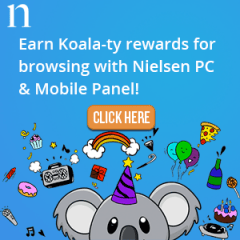 Free Gift Cards for Just Browsing The Web
Are you already browsing the web on your mobile or computer? If you are then you need to join Nielsen Computer & Mobile Panel. They will give you free gift cards for just browsing the web like you normally do on your mobile and computer.
Simply register on the panel, download the free app and let it run on your device in the background and you will earn points for just browsing the web. You can then convert those points into free gift cards which can be used at a range of Australian retailers!
It doesn't matter if you use your mobile device a lot or a little or how you use it.
If you haven't heard of Nielsen before they are a global research company. You may know them from the Nielsen TV Ratings you sometimes see on TV. They have been around for over 90 years so its an established and trusted brand.
CLAIM OFFER