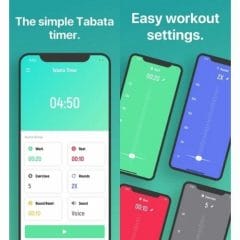 Free Workout Timer App for iPhone
Tabata Timer is a Tabata workout timer that you can now download for free! The app is available from the Apple App store, and it's easy to use. While using the app, you can listen to audio guides through the workout, so you don't need to see the screen. You can still listen to music apps while you workout, and it records your workout history and more.
Users love the app and think it is one of the best timers, so click the green button to download it on your iPhone. The link will take you to the Apple app store, where you can read more about the app, check out the reviews and get the app for free. This offer won't last long, so download the app today and don't miss out.
CLAIM OFFER