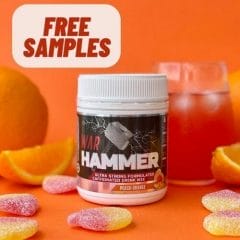 Free Supplement Samples from International Protein
International Protein is giving away free samples of their protein supplements. If you claim the free sample, you will receive a mystery box containing three packs of either their Plant Power Protein, Heavy Weight Mass Gainer, War Hammer, Amino Charged WPI or Gourmet WPI mini tubs.
This offer is a Facebook sponsored ad, so to get the free sample, you need to follow these steps. Click the green button below, and the link will take you to the International Protein Facebook page. Once there, you should interact with their content, so like and comment on their posts and photos. Eventually, you should see a sponsored ad for the sample and when you see that, follow the instructions on the post.
CLAIM OFFER