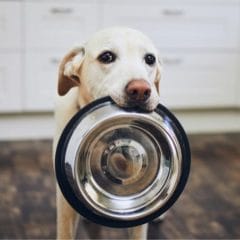 Free Samples of Vetalogica Dog Food
Vetalogica is a pet food brand that creates natural, grain-free food, treats and more for cats and dogs. For a limited time, they are giving away sample packs of their Fisherman's Feast Dog Food. A free sample is the perfect way to try new dog food as you won't lose anything if your dog isn't keen, and if your dog loves it, you know you can buy the food brand with confidence.
To get your free sample of Vetalogica dog food, you will need to visit their Facebook page by clicking the green button below. There is no form to fill in once you get there because this offer is a sponsored ad. You should interact with their content by liking their posts and images and maybe leave a comment. Eventually, you should see an ad for the free dog food sample on Facebook, and once you do just follow the instructions, and the sample will be sent to you. You could also search for Vetalogica on a search engine and follow them on Instagram for an increased chance of seeing the ad.
CLAIM OFFER