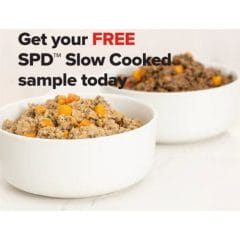 Free Sample of Slow Cooked Dog Food
If you have a dog or a younger puppy, you need to check out this latest freebie. You can get a free sample of Prime100 SPD Slow Cooked dog food. There are six different flavours available, including Duck & Sweet Potato, Lamb and more. If you claim the free sample, they will send you a coupon, which you can use to pick up the food at your selected store.
This food is tasty for your pet, healthy, and fuss-free, so click the green button below to order your free sample on the Prime100 website. Once there, choose your flavour, fill in your details and select your store. You can then use your coupon to get the free sample, we hope your dog enjoys the food!
CLAIM OFFER