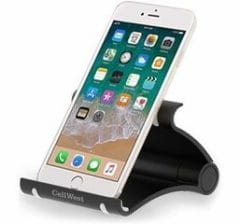 Free Mobile Phone Stand
With a smart, foldable design, this unique phone stand was meant to be used on the go. The multi-angle design helps you take calls, stream or browse without ever having to move your phone. The contact points are rubberized for stability.
This lightweight stand for mobiles and tablets up to 10 inches, looks great on your desk. Get yours Today by filling in the short form & NO SHIPPING FEES! Get yours with WOW Freebies!
CLAIM OFFER