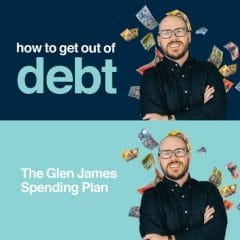 Free Courses About Money & Debt
If you want to learn more about tracking spending or getting out of debt, you need to check out the free courses on my millennial education. There are five free Glen James courses available, so you can choose How to get out of debt, The Glen James Spending Plan, Glen James Spending Spreadsheet, Introduction to Cryptocurrency, or Glen's Online Investing School. Each course has different lessons, and you can easily sign up.
Click the green button below to visit the my millennial education website. Once there, you can read more about the courses available. Glen's Online Investing School and Introduction to Cryptocurrency are on page 2. Have a look at the different courses and the curriculum and learn something new. Knowledge about money is always useful!
CLAIM OFFER