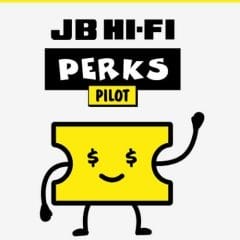 Free $10 JB Hi-Fi Coupon
If you join JB Hi-Fi Perks, you can get a free coupon worth $10! You will also get other benefits, including extra member discounts and Hot Perk Alert offers. Your receipts will be stored on your account, so you can return items easily if you need to. It is a brilliant membership, and the $10 JB Hi-Fi coupon means that this offer cannot be missed!
To sign up and read more about the membership, click the green button below. The link will take you to the JB Hi-Fi Perks application page, where you can fill in the form. Join today and get your free coupon, you can use it in-store or online, and it will be valid for 28 days.
CLAIM OFFER