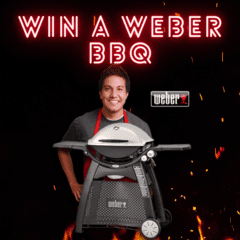 Win a Brand New Weber BBQ
Weber has been the leading name in kettle barbecues since the 1950s, and while the range has grown to include a host of different styles, and the brand has become as synonymous with gas barbecues as it has charcoal, the same appealing brand remains.
Their BBQ's are some of the best and you will definitely want to enter this competition because if you win you can show off your brand new Weber BBQ to your friends and you can make delicious burgers and sausages for all of your friends and family!
Simply click claim offer and fill in your details to be entered! That's it!
CLAIM OFFER