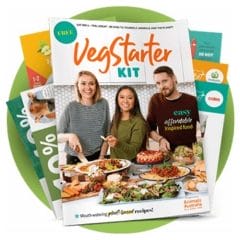 Free Vegetarian Starter Kit
VegKit.com is now offering free vegetarian starter kits. The kit includes tips on how to make changes to your diet and delicious plant-based recipes to try and help you cut down on eggs, meat, and dairy.
Claiming yours is simple. Click the green button below and enter your details on VegKit.com. You can also opt in to receive emails from VegKit and from Animals Australia, where you can discover ways to be kinder to animals. 1 in 3 Australians are making changes to their diet, and now you can too.
CLAIM OFFER