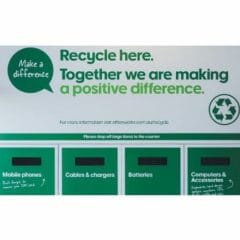 Free Technology and Stationery Recycling at Officeworks
Officeworks have free recycling programs where you can recycle a variety of materials that you use in the office or at home. You can recycle your old printer cartridges, batteries, pens, mobile phones, and E-waste. E-waste could be keyboards, hard drives, mice, monitors, and more.
This is a great offer because most of these things cannot be recycled in your household recycling bins. So, now you have somewhere to dispose of them, and items can be recycled instead of going to a landfill. To read more about the recycling program and to see the full list of accepted items, click the green button below. You can also use their store finder to see what items your local Officeworks store will accept.
CLAIM OFFER