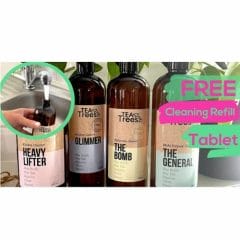 Free Tea Trees Eco Ware Cleaning Tablet
Tea Trees Eco Ware in Torquay creates cleaning refills that get rid of dirt and grime, but they are better for the planet. Now, they are giving you the chance to try one of their cleaning tablets for free! When your tablet arrives, you should put water into an empty spray bottle, put the tablet in the bottle with the water, and you are good to go. You can get cleaning around your home.
This is the perfect offer if you want to try cleaning products which are gentler on the environment and want a product that cleans well! To get your free tablet, click the green button below, and the link will take you to the Tea Trees Eco Ware Facebook page. Once there, click "Sign Up", and a form will appear, enter your details, and the cleaning tablet will be sent to you.
CLAIM OFFER