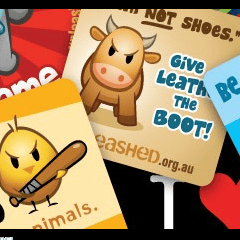 Free Animal Rights Stickers
Unleashed would like you to spread awareness and make a stand for the animals in factory farms, testing facilities and fur farms. To do this they are giving away free sticker packs containing 12 individual stickers reflecting different animals' situations.
Get the stickers by clicking 'GET OFFER' and filling in your details on their page. If you do not want to wait for the stickers to come, you can alternatively download the stickers and print them off yourself. Start putting your stickers around and help Unleashed now!
CLAIM OFFER