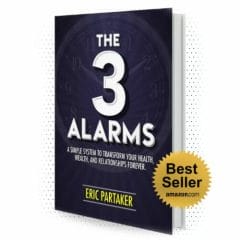 Free Self-Help eBook
The 3 Alarms is a self-help book by award-winning entrepreneur Eric Partaker. This book aims to help you reach your full potential by teaching you practical things. You will learn about the most common traps and how to avoid them, how to improve productivity, how to turn stress into strength and much more.
This is the perfect time to read this book because you can try it for free, so if it helps you, that is brilliant, but if not, you haven't lost anything. Click the green button below to visit Eric Partaker's website, where you can download a copy of The 3 Alarms. Give it a try and see if it helps you make some positive changes.
CLAIM OFFER