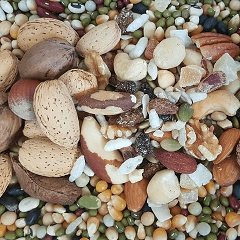 Free sample of Nuts
The sample pack includes individually packed samples of Sprout Mixes with instructions, Nuts, Caribbean Fruit & Nuts, Bird Pellets (depending on availability) and a Product Price list. Get your Free sample of Nuts today!
YOU REALLY SHOULD TRY THE SPROUT MIXES AND CARIBBEAN YOURSELF as well as your birds, they are truly amazing and deliciously healthy, here's a few ideas...
Caribbean is great as a muesli, with icecream, yoghurt, add melted REAL chocolate and make into an amazing slice or just much on it all by itself as a snack anywhere, anytime.
CLAIM OFFER