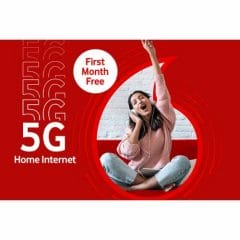 Free Month of Vodafone 5G Home Broadband
You can get the first month free if you sign up for a 5G Home Internet Plan with Vodafone. They have different plans available, and you can get half-price plan fees for six months after your free month is over.
It is worth checking out if you want to try a different internet provider because they offer a choice of speeds, easy set-up with no installation, no upfront cost for the modem, and you can cancel any time. Click the green button below to read more about the offer, and you can decide if you want to try the free month.
CLAIM OFFER