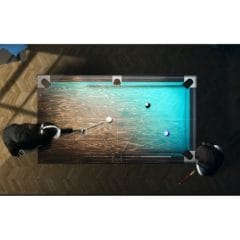 Free Mixed Reality Pool Game
Always wanted a pool table in your home? Now you can, thanks to MiRacle Pool! This is a mixed reality game that you can now get free on the Meta store. It allows you to have a virtual pool table in your home, so it is like a mix of virtual reality and real life. You can play alone, with friends, against the computer or on online matches. Plus, it has very positive reviews online, so give it a try for free while you can.
Press the green "CLAIM OFFER" button to visit MiRacle Pool on the Meta store. Please note that you will need a large space and internet connection to play, and the game supports Meta Quest 3, Meta Quest Pro, Meta Quest 2, Touch controllers and eye tracking.
CLAIM OFFER