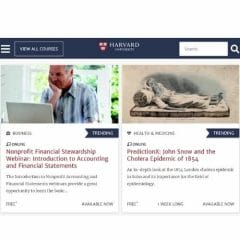 Free Harvard University Online Courses
Learn something new by signing up for a free Harvard University course. The university are offering over 100 online courses that you can take for free. There is a subject for everyone and the courses available include, Masterpieces of World Literature (12 weeks long), The Path to Happiness: What Chinese Philosophy Teaches Us about the Good Life (7 weeks long), and more. Each of the courses has a syllabus and is of a different length.
The courses are free but if you like, you can upgrade so you will receive graded assignments and certificates. The cost of the upgrades and extras will be visible on the course page. If you just want to expand your knowledge and try something new, then the free option is all you need.
To view the list of free online courses, click the button below. The link will take you to the Harvard University website, and you can see which courses are available to you.
CLAIM OFFER