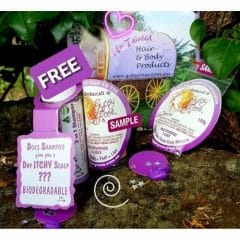 Free Gypsy Rose Sample Pack
Gypsy Rose is now offering free sample packs so you can try some of their most popular products before you buy. The sample pack includes a 2 in 1 Shampoo in Lavender or Rosemary approx 50 ml, one small piece of the Facial Soap Mixtures in Paw Paw Carrot & Orange, Almond, Honey & Cinnamon or Lavender Clay & Apple Cider, All Rounder Body Top to Toe in a 3g jar, a Gypsy Rose Promotional CD flyer and product leaflet.
The sample packs are restricted to one per customer, and you cannot order the pack with another item. Click the green button below to order your sample pack on the Gypsy Rose website. Please note that while the sample pack is free there is a postage fee.
CLAIM OFFER