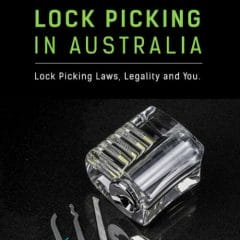 Free eBook About Lock Picking
PickPals are giving away PDF eBooks about lock picking. It covers the laws and legal information that you need to know if you decide to learn how to lock pick as a hobby. This short eBook just covers the basics about if it is legal and how to stay on the right side of the law. It also discusses lock picking as a hobby, and there are even competitions for it if you want to try something new and more unique.
Click the green button below to view the free PickPals Lock Picking in Australia: Lock Picking Laws, Legality and You eBook.
CLAIM OFFER