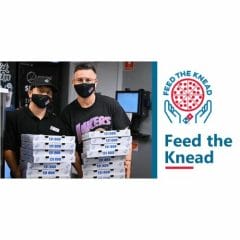 Free Domino's with Feed the Knead Program
Domino's are supporting their local communities one slice at a time with their Feed the Knead program. This program allows you to nominate a person, charity or business to receive a free hot meal. It is the perfect way to give someone one less thing to worry about during a stressful time.
Nominate today by clicking the green button below, and the link will take you to the Feed the Knead nomination form. Once there, fill in the details of who you think needs a hot meal and submit it. If you are successful, Domino's will be in touch to arrange the delivery. Support someone who needs it by nominating them for free pizza.
CLAIM OFFER