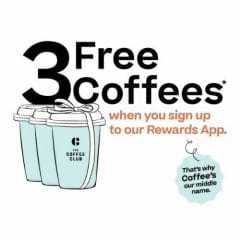 Free Coffees from The Coffee Club
If you sign up to The Coffee Club Rewards App, you can get three free coffees! All you have to do is download the app, join their loyalty program, and you will get your free coffees. You will get to enjoy other benefits too, you will get exclusive offers, and with the app, you can earn $1 in rewards for every $10 you spend.
To read more about The Coffee Club Rewards App, click the green button below. The link will take you to their website, where you can also find download links for the app. This offer ends on the 31st of March so sign up today.
CLAIM OFFER