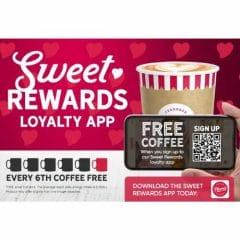 Free Coffee or Hot Drink at Ferguson Plarre Bakehouses
If you download the Ferguson Plarre Bakehouse Sweet Rewards Club app and sign up, you can get a free coffee or other hot drink. That's not all, by joining the Sweet Rewards Club, you will also get a $5 voucher on your birthday, you can earn points with every purchase, and every 6th hot drink or coffee you get will be free. Who could say no to free coffee and a birthday voucher?! Plus, you can access competitions and offers.
Click the green button below to visit the Ferguson Plarre Bakehouse website, and once there, you can read more about the Sweet Rewards Club and where to find the app. Join their rewards club today and get your free hot drink!
CLAIM OFFER