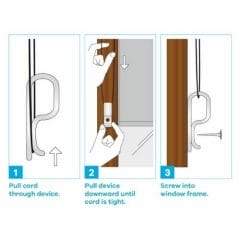 Free Blinds/Curtains Cord Safety Kit
The cords that dangle from your curtains and blinds can be a danger to children. A child can easily loop loose cords over their heads, and this can result in strangulation. According to Consumer Affairs Victoria this type of accident claims the lives of one or two Australian children every single year.
To help families avoid these accidents Consumer Affairs Victoria are giving away free blind and curtain safety kits. The kit contains 5 plastic devices complete with screws and instructions. To avoid accidents the plastic device is fitted to the wall, and the cord is placed inside it so it is not loose and dangling.
Order your kit today by clicking the green button below to visit the Consumer Affairs Victoria website. Click order, and you can order up to three kits. Fill in the form and wait for your kit to be delivered. It is important to note that these kits are only available to those living in the state of Victoria.
CLAIM OFFER