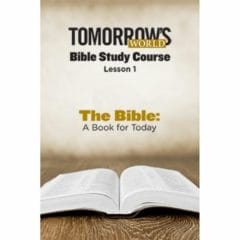 Free Bible Study Guides from Tomorrow's World
Tomorrow's World is offering Bible study books that will give you a more in-depth understanding of the Bible free of charge. The books are part of their Bible study course, and you will learn about Proverbs, the book of Revelation, and much more.
To visit the Tomorrow's World website where you can order your first free book, click the green button below. Once on their website, enter your details on the form to order the first book named lesson 1. Your Bible study book will be sent to you, but delivery can take up to 14 days. This is the perfect offer for those who want to learn more about the Bible and scriptures.
CLAIM OFFER