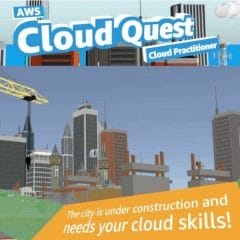 Free AWS Cloud Quest Game
Amazon Web Services is now offering a free role-playing learning game that helps you develop practical cloud skills. The AWS Cloud Quest: Cloud Practitioner game allows you to solve problems in the virtual Cloud Quest city by taking part in quizzes, puzzles, learning exercises, and more.
Click the green button below to visit the AWS website, where you can give the game a try. It is a hands-on learning experience, and you will learn cloud concepts that can be applied in real business.
CLAIM OFFER