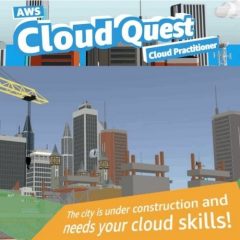 Free AWS Cloud Quest Game and Practice Exam Voucher
Amazon Web Services is now offering a free role-playing learning game that helps you develop practical cloud skills. The AWS Cloud Quest: Cloud Practitioner game allows you to solve problems in the virtual Cloud Quest city by taking part in quizzes, puzzles, learning exercises, and more. It is a hands-on learning experience, and you will learn cloud concepts that can be applied in real business.
If that wasn't enough, if you finish the game, you will also get access to a free Cloud Practitioner Practice exam voucher with a question bank that is worth $150. This will prepare you for real certification. Click the green button below to visit the AWS website, where you can give the game a try.
CLAIM OFFER