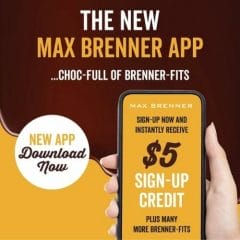 Free $5 Credit for Max Brenner
If you download the Max Brenner app and sign up as a new member, you will get a free $5 credit. The app has many other benefits, including free hot chocolate on your birthday, queue skipping, you can order from anywhere, and more. You can also save Cocoa Beans loyalty points, which you can spend in-store.
Click the green button below to visit the Max Brenner website. Once there you can read more about being a member, and you can find the app download links for your device too. There are a lot of member benefits available on the app, so download it and sign up today.
CLAIM OFFER