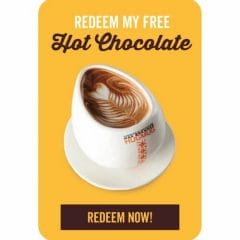 Free Hot Chocolate on Your Birthday
If you download the Max Brenner app and sign up, you can get a free hot chocolate on your birthday! The app has many other benefits, including queue skipping, you can order from anywhere, points for referring a friend and more. You can also save Cocoa Beans loyalty points, which you can spend in-store.
Click the green button below to visit the Max Brenner app on the Google Play Store. Once there, you can read more about being a member and download the app onto your device. The app is also available on the Apple App Store.
CLAIM OFFER