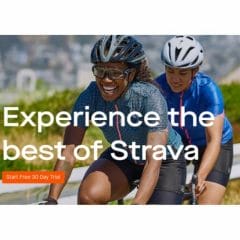 Free 30-Day Strava Trial
Do you like to go running, walking or cycling? Maybe you want to start doing these activities but don't know where to start. If so, this offer could be perfect for you. You can get a free Strava subscription for 30 days. When you join Strava, you will be able to discover new routes for your exercise, set challenges for yourself or against others, set goals and more.
Press the green button below to visit the Strava website, where you can read more and start your free trial. Please remember that this is a subscription, so you will need to cancel before your 30-day trial ends if you do not want to be charged the subscription fee. If you decide you don't want to pay for Strava, there is a free version with fewer features. Visit Strava today and give it a try!
CLAIM OFFER