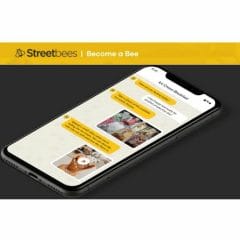 Earn Cash with Streetbees
If you enjoy answering questions about your hobbies and other topics, taking photos and sharing videos, you should join Streetbees! When you become a Bee, you can earn money for contributing to their stories and answering chat-style questions. While taking part, you can give as much or as little info on the topic, but the main thing is that you are honest because your answers can help brands see what you think and how you might you use their products. It just gives them some insight. For each task you complete, you will earn cash that can be paid into your PayPal account.
Click the green button to visit the Streetbees website, where you can read more and download their app. During the sign-up process, you can use our referral code: 7778AD. You'll be buzzing when you earn rewards quickly while having fun on their app. Don't miss out because each story doesn't take long, and you can't say no to a bit of extra money!
CLAIM OFFER