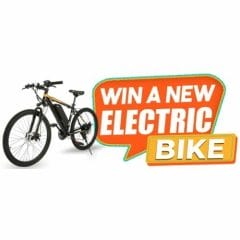 Win an Electric Bike
If you enter this free FunClub competition, you could win a new e-bike. An electric bike is easier to ride than other traditional bikes, and cycling is a better way to travel for the environment. Most important of all, cycling is a fun way to exercise! So, this is a fantastic prize, and if you win, you will be cycling everywhere.
Click the green button below to be in with the chance of winning the electric bike. The link will take you to the FunClub competition page, where you should answer the questions and fill in your details. FunClub will notify you if you are the lucky prize winner!
CLAIM OFFER