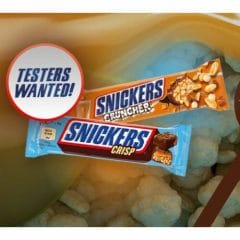 Win a Snickers Package
Enter this You Sweeps competition, and you can win a Snickers package! To enter the giveaway, you will need to answer the question about whether you prefer your Snickers crispy or crunchy. It is the perfect prize for a chocoholic because the package is worth $100, so there should be enough Snickers to satisfy your sweet tooth.
Click the green button below to enter the You Sweeps competition, where you could win the Snickers Package. Once there, choose your Snickers chocolate and enter your details. Good luck with your entry, and enjoy your chocolate if you win!
CLAIM OFFER