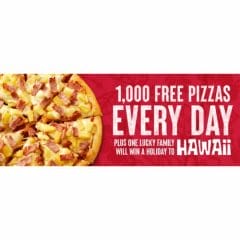 Win a Pizza Hut Large Pan Pizza
In celebration of 60 years of the Hawaiian pizza, Pizza Hut is giving away 1,000 pizzas every day at 4 pm. The number will increase to 5,000 on Hawaiian Pizza Day on the 20th of August. If you win a pizza, you will receive a Pizza Hut coupon for a Large Pan Pizza for Online Pick up only.
When you complete the form, it will unlock a game where you could win a Hawaiian shirt or a family trip to Hawaii. You will also be entered into the draw to win the trip if you buy a Pizza Hut Hawaiian Pizza.
To be in with the chance of winning a free pizza, you need to click the green button below. Once on the Pizza Hut website, you should fill in the form from 4 pm AEDT. You will then be entered, and the first 1000 people will win a free pizza. While on the website, you can also read the full terms and conditions for this pizza promotion. Who could say no to free pizza, enter the giveaway today!
CLAIM OFFER