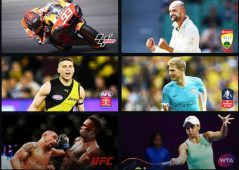 Watch Sport Live & On Demand Free for 14 days
Is there a big game coming up that you don't want to miss? Watch live sport and on demand on Kayo Sports for free for 14 days. During your 14 day free trial you can enjoy watching as many sport shows as you want. Easily watch them on your TV, tablet and mobile device.
Kayo Sports works with Australia's leading sports broadcasters, including the likes of Fox Sports, ESPN and beIN SPORTS. Their TV channels are the source of much of the great content that Kayo Sports provide users.
This offer is for new customers only. Want to continue after your free trial? Prices start from just $25 per month to watch on 2 screens in HD.
CLAIM OFFER