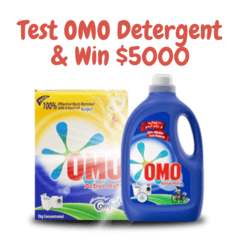 Test OMO Detergent for Free
Looking to find the best laundry detergent for you and your family? You're in luck! Whether you want a washing powder or liquid detergent or capsule, the stain removal solution you need is right here. You can now register to test OMO's detergent and it will be completely free!
If you like it then be sure to get some more and when you register to test this detergent you will also be entered into a $5000 giveaway. So be sure to register today and good luck!
CLAIM OFFER