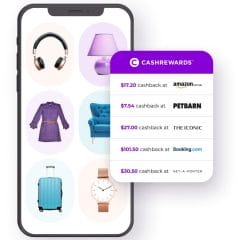 Get Cashback Online and In-store at over 1,700 Shops
Get cashback every time you shop via Cashrewards. Cashrewards has cashback deals with more than 1,700 retailers! To date Cashrewards have paid out more than $100,000,000 to it's members.
How does it work?
Register with Cashrewards for free.
Shop as usual either via the Cashrewards website for online shopping or via linking your bank card for in-store cashback.
Get cashback in your Cashrewards account (it can take up to 7 days for transactions to show in your account).
What are you waiting for? Join the 1 million Aussies who get cashback every time they shop. It's completely free to sign up and use Cashrewards.
CLAIM OFFER