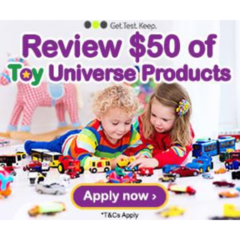 Review Free Toys from Toy Universe
Get Test Keep are looking for people to review $50 of Toy Universe products and if chosen you'll get to spend $50 on toys and KEEP the products. Simply join our program and complete all the forms.
You will receive a $50 voucher to spend on toys! You'll be able to choose whatever you would like to spend it on and you get to keep the products afterwards, all you need to do is leave a review of them. Register NOW!
CLAIM OFFER