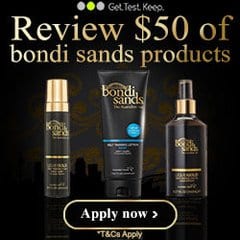 Review Free Self-Tanning Lotion
Bondi Sands: Australia's number one self tan brand. Award-winning products. Take a look at their Self Tan, Tanning Accessories & Suncare. today and review them today...
GetTestKeep are looking for people to review $50 worth of Bondi Sands products and if chosen you'll get to KEEP all the products selected. Simply join our program and complete all the forms. They will send you a voucher or cash for you to complete this review on the leading tanning lotion brand!
CLAIM OFFER