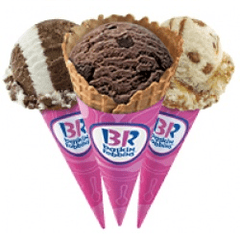 Free Ice Cream for your Birthday
Get a free ice cream email on your birthday and a special discount on a birthday cake. Plus a Buy 1, Get 1 FREE* scoop offer when you sign up and additional offers all year long!
Named the top ice cream and frozen dessert franchise in the United States by Entrepreneur magazine's 35th annual Franchise 500® ranking, Baskin-Robbins® is the world's largest chain of ice cream specialty shops. Baskin-Robbins® creates and markets innovative, premium ice cream, specialty frozen desserts and beverages, providing quality and value to consumers at nearly 7,300 retail shops in nearly 50 countries.
Baskin-Robbins® was founded in 1945 by two ice cream enthusiasts whose passion led to the creation of more than 1,000 ice cream flavours and a wide variety of delicious treats. Headquartered in Canton, Mass., Baskin-Robbins® is part of the Dunkin' Brands Group, Inc. (Nasdaq: DNKN) family of companies.
CLAIM OFFER