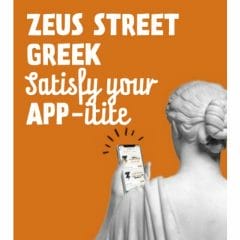 Free Zeus Street Greek Credits
If you download the free Zeus Street Greek app, you can get free credits to use at their restaurants. As a new sign-up to their app, you can get two credits worth $5. The credits can be redeemed in the app, and you can combine them, so you can get $10 off one purchase. That's not all, by using their loyalty app, you can earn points on purchases, swap points for credits, skip queues and access special offers.
Click the green button below to visit the Zeus Street Greek website, and once there, you can read more about the loyalty app and find the download links. Get the app today and get your free credits.
CLAIM OFFER