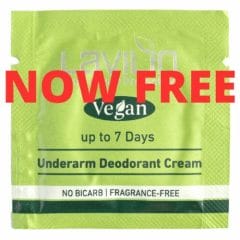 Free Vegan Deodorant Cream
Lavilin Total Odour Protection offer brilliant solutions for body odour, and now they are giving away free samples of their Vegan Underarm Deodorant Cream. Each application of the cream lasts up to seven days, so you won't have to worry about whether your armpits smell. This vegan version is dairy, fragrance and bicarb soda free, and Lavilin products are not tested on animals. So, you can try this herbal-based deodorant and see if it works for you.
Click "CLAIM OFFER" to visit the Lavilin Total Odour Protection website, and once there, you can read more about their Vegan Underarm Deodorant Cream. To get your sample, just add it to your basket and check out, easy!
CLAIM OFFER