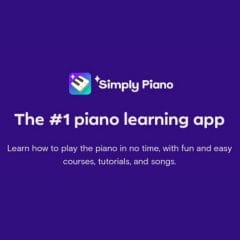 Free Trial of Simply Piano
Want to learn to play the piano, but have no idea where to start or don't want to go to a class? If so, Simply Piano could be perfect for you! Simply Piano is an app that helps you learn while having fun. While using the app, you will see piano video lessons and tutorials, there are easy courses, and you can play songs you love. You'll be able to practice at your own pace whenever the time is right for you.
You can get a free trial of Simply Piano by clicking the green button below. The link will take you to their website, where you can create an account and get started. This app is available on Android and Apple devices, plus, it will work with any piano or keyboard. Start your musical journey today with your free trial, so you can see if Simply Piano is the perfect piano learning app for you.
CLAIM OFFER