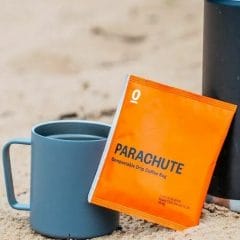 Free Single O Parachute Coffee Bags
We Are Explorers are giving away 2000 2x single serves of their specialty-grade coffee. The coffee is in compostable drip bags. You can drink your coffee at home or while out in the wild because all you need is hot water and a vessel, and it is quick to brew.
Not only can you get free coffee but there is also a competition to enter. All you have to do is post a photo of yourself using the Parachute coffee outdoors. If you win, you will receive a Brewing Up Different Collection. The collection includes a Breville Bambino Plus Coffee Machine, Single O T-shirt, Single O KeepCup, a Clockwork Origin Wholebean Coffee subscription for 3 months, Single O 48 'Living Large' Multipack of Parachutes Coffee Drip Bags, and a MiiR Insulated Bottle.
You can claim your coffee on the We Are Explorers website by clicking the link below, and you can also read more about their competition and how to enter.
CLAIM OFFER