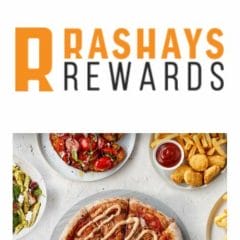 Free Rashays Rewards Membership
If you sign up for Rashays Rewards, you can enjoy a $10 voucher on your birthday, $15 Pizza and Pasta on Mondays and Tuesdays, kids can eat free on Sundays, and you will get 10% off when you dine in. Usually, this membership costs $10 a year, but you can get up to two years free with these coupon codes. If you want a free membership, you should use the code FREEJOIN. Then you can apply the code JOINFREE separately to get it renewed for a further 12 months. So, if you use both codes, you can get a free membership for 24 months.
Click the green button below to visit Rashays Rewards, where you can sign up and apply your codes. Get yours today because you can't say no to discounts on food and kids eating free on Sundays!
CLAIM OFFER