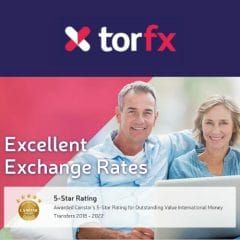 Free Quote to Save Cash on FX Costs
Want better foreign exchange rates? Then get a free quote from TorFX. TorFX provides their clients with brilliant exchange rates, there are no hidden fees on transfers, and you get a personal account manager. You can transfer over 40 currencies with them, and you can do so in different ways. It is safe and secure, plus they have a 5-Star Rating with Canstar.
Get an FX quote and save money on your FX costs today by clicking the green button below. The link will take you to the TorFX website, where you can read more about them and get your free quote. They aim to provide you with the most competitive rates, so don't miss out on getting a quote, do it today!
CLAIM OFFER