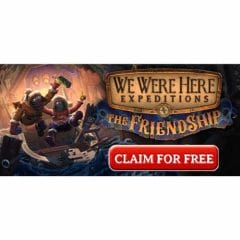 Free Puzzle Co-Op Game
We Were Here Expeditions: The FriendShip is free to claim on the Steam website for a limited time! This game is set in an abandoned amusement park and allows you to team up with your friend online so you can solve the puzzles together. It has positive reviews from others who have played the game, so now is your chance to try it yourself without spending your cash.
Click "CLAIM NOW" to visit the Steam website, and once there, you can read more info about We Were Here Expeditions: The FriendShip. You can download a copy for yourself but don't wait around because you only have until October 13th. Don't forget to share this offer with friends and family so they can play the adventure.
CLAIM OFFER